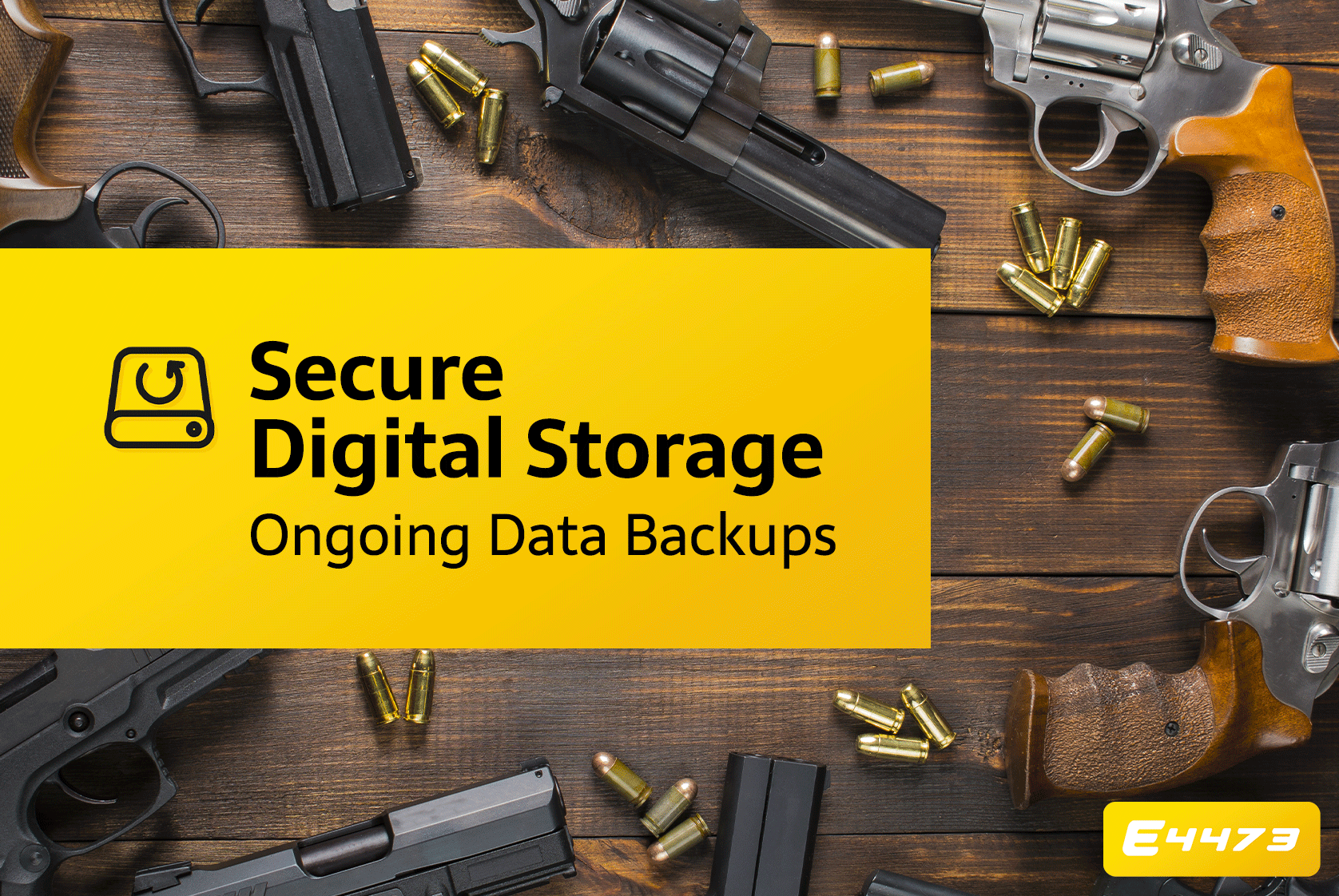 What is Secure Digital Storage?
For anyone who is in business today, data is one of the most important assets. It's also one that criminals are only too happy to steal. Or try to. Because of that, protecting your data needs to be a high priority.
Putting a lock on your storeroom office isn't enough. Having passwords on employee computers isn't enough. Having a firewall on your network isn't enough. And hoping that nobody will be interested in your data is definitely not enough. 
So what does secure digital storage look like in 2021? Let's look at four factors.
Security Protocols For Secure Digital Storage
For firearms dealers, the customer data collected on Form 4473 needs to be captured and then stored securely. Gun and pawnshop owners need to understand the sensitivity of the information they work with and take responsibility for their role in keeping it safe. If they're using security protocols that aren't compliant and stringent, including both document and storage encryption, they are putting their customer data at risk. Stringent security protocols include:
Keeping firewalls up-to-date

Organizing users by security level

Proper key management

Continuous monitoring and auditing

Thorough staff training that doesn't create unnecessary roadblocks to doing their work
Secure E4473 Online Account
Creating a secure E4473 online account is the easiest way to keep your data safe. Our 3-step account setup includes an admin email account verification and remote login security. Our system allows you to have complete control who can access your data at an employee level and protects your data from being accessed locally on office computers and in age-old filing cabinets. Not to mention our system allows for remote secure login from any computer that has internet access so that your account can be monitored even when you're not in the office.
Strict Password Protocols
Few people remember this now, but in 2013 Adobe had a data breach caused by weak password protocols. It was big and embarrassing. Weak passwords are an easy way into your records and therefore are a very important part of overall data security. "According to the Verizon Data Breach Investigations Report, compromised passwords are responsible for 81% of hacking-related breaches." Among other things, secure passwords are long, but not necessarily complex, and should be protected by hashing before they're stored. Make sure any system you use has strict password protocols.
Protection From Cyber Attacks
Effective protection from cyber-attacks requires continuous monitoring of hacker's actions and constant upgrades to your security protocols based on this knowledge. Sophisticated protection includes identifying the user's network, device, and actions. Even the rate at which they are typing can be an important indicator of potential fraud. 
E4473 is the first solution on the market to offer ATF-compliant Digital Storage. Our goal is to increase the safety and security around firearm transactions while helping to alleviate errors and time wasted. When you use E4473, you can have confidence that you are using the most up-to-date protocols for secure digital transactions and storage.