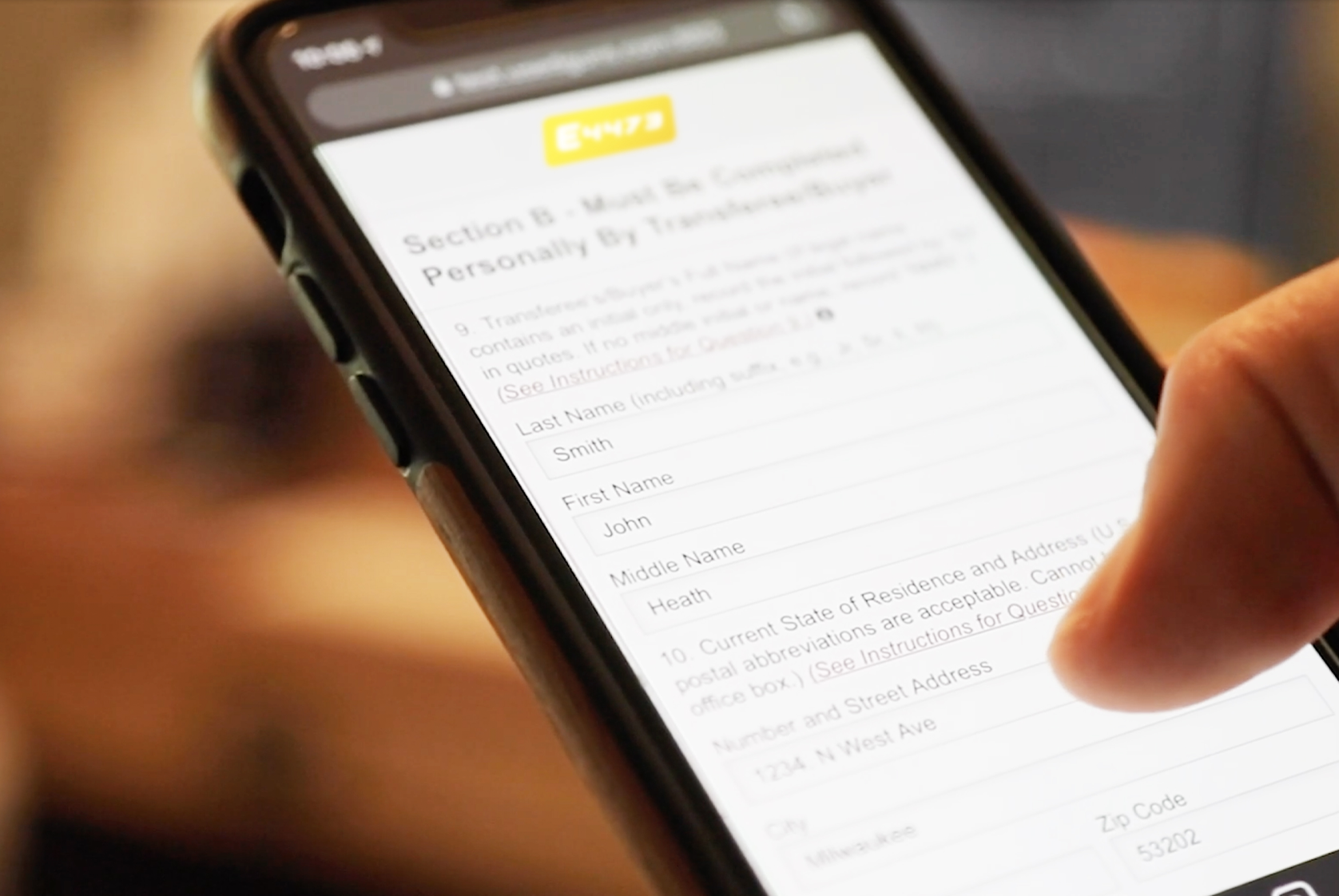 Lying on form 4473 is a felony. Thankfully, you're not too likely to run into that situation. What's much more common is having to identify and fix honest mistakes in the 75 fields that your customer needs to complete in order to make a purchase. 
You can spend time trying to keep your customers focused on the form, preventing distractions from other customers who just want a quick question answered, and making sure they don't use a middle initial in Section A; or you can use E4473. It's just that clearcut.
E4473 takes everything online and makes it error-free. No more bound book. No more 20 years of paperwork on file. No more babysitting customers while they complete the form. The benefits of E4473 are overwhelming and the cost is negligible in comparison.
Benefit #1: Stay Compliant
With E4473 you have the security of being 100% ATF compliant. We play ball by the book. E4473 keeps a close eye on the ATF's latest releases, regulations, and requirements. Our legal team stays ahead of the curve so you can sell firearms without anxiety. The platform meets all 12 of the minimum standards for an ATF variance, including completing the form entirely in a digital environment, saving it in an unalterable format, and providing ATF with uninterrupted access to the system in "read only" capacity.
Benefit #2: Enhance Security and Privacy
Data privacy is a top priority with E4773. The platform offers a five-tier data security protocol and round-the-clock monitoring that's like kevlar for your data. Dual factor authentication is the industry standard and a requirement for E4473. We are constantly on the alert for suspicious activity while keeping private information tightly locked up. This allows you to eliminate thousands of unsecured paper records and cease worrying about document storage.
Benefit #3: Increase Sales to Qualified Customers
Remember babysitting the customer filling out the form 4473, while other potential customers are waiting in line or trying to ask questions? With E4473 that can be a problem of the past. There are no wait times because the form is accessible on any device at any time. It's intuitive, easy-to-use interface means even a first-timer can complete form 4773 accurately and without frustration. Multi-user capability means you, your team, and your customers can be using E4473 all the same time without errors or timeouts.
Furthermore, E4473 lowers your costs by reducing the amount of time you spend completing form 4773, training your employees to execute the process correctly, and fixing errors. E4473 supports you with online video training, FAQs, and support services. It's accuracy helps keep straw purchases out of your store so you can spend your time with your loyal, qualified customers. 
Benefit #4: Eliminate Form 4473 Errors
E4473 digital process removes the error caused by manual processes and eliminates inaccuracies. Every form field on every application is verified and validated. The platform employs the most up-to-date validation technology to ensure that forms are error-free and complete. Each section of our application offers questions displayed with definitions and exceptions, and there are alerts for improper answers. Best of all, it's 100% automatic and reliable so you can keep your focus where it needs to be — on your business.
Benefit #5: Reduce Paperwork
With E4473, you can complete all your gun sales and transfers digitally, freeing up hours of time you used to spend on paperwork. Each firearm transaction record is stored digitally with all its attachments, eliminating hard copies and wet signatures.
Benefit #6: Experience Peace of Mind
E4473 is hands-down the safest way to sell firearms. It gives you the security of submitting a 100% compliant, error-free form. It eliminates the hassle of creating, storing, and retrieving paper documents. And, if you're ever audited, the ATF can have uninterrupted access to the system in "read only" capacity and the ability to retrieve information quickly.
The E4473 platform was developed to meet the needs of all firearms dealers. Whether you're a pawn shop, small gun shop, e-commerce firearm store, or large retailer we have a solution that will make your life easier and your business more profitable. We are passionate about the right to responsibly bear arms and would love to talk to you about how you can process the form 4473 with previously unknown ease, security, and accuracy.